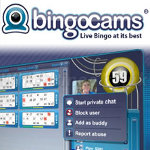 It's difficult to find a truly unique online bingo site these days, but one that not only breaks the mold, but shatters it completely, is Bingo Cams.
This is the bingo site that encourages players to take part with their webcams switched on as they play and to go wild every time they win. If people want to dress up, or paint their faces or do a silly dance, that's fine – the wilder the better. They want players to do this so much that there is even a £1,000 monthly prize for the best, and two random £500 prizes for two more lucky players that had their cameras on when they won.
Bingo Cams also makes it an easy decision to give them a go to try out this unique bingo format as all new players receive a free £5 no deposit bingo bonus to use around the site to get a feel for what is on offer. This is followed up by a 200% first deposit bonus that opens up even more bingo rooms and the chance to enter guaranteed jackpot competitions.
There are standard chat games to enjoy with the various hosts at Bingo Cams and, yes, they too are on camera for all the players to see. These chat hosts really get into the spirit of the adventure and will dress up at the drop of a hat if it means keeping roomies entertained.
A recent innovation at Bingo Cams has been bringing in celebrity chat hosts. So far these have included ex-Soapstars and reality show veterans such as Chico from The X Factor. These celebs appear of camera for two hours and become the chat host. They answer questions and generally interact with the players and play chat games with them to give away lots of cash.
The webcam idea originated in Holland, but quite a few British online bingo players have embraced the .co.uk version and it is only a matter of time before this unique version of online bingo spreads across many more UK online bingo sites.
Join Bingo Cams now and take advantage of the free fiver to have a look for yourself.