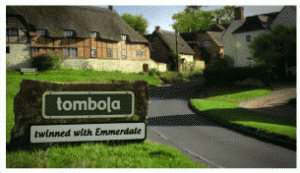 Top bingo site tombola has unveiled a new series of ad break bumpers that will confirm the firms sponsorship of popular ongoing drama Emmerdale. Roomies at tombola were urged to express an interest if they were interested in taking part in filming a few months ago. The result was 25 everyday people that play bingo online being chosen from scores of applications to be a part of this next set of promotional campaign featurettes that kicked off recently.
The short films feature at the start and finish of Emmerdale and at the start and end of each and every advertising break throughout the programme as well.
The successful tombola Bingo members selected to participate got to go to the Cornish Riviera for filming and entered into activities ranging from sandcastle building to quad biking, from making Cornish Pasties to deep sea fishing and abseiling. This was filmed as they happened like a fly on the wall documentary.
There is a sequence of 21 different short films with clips representing all the activities undertaken and each member that was there will showcase as the principal personality for a short clip each. These specific ads will be shown for 12 months and because the sponsorship applies to all broadcasts of Emmerdale spanning all the ITV channels, all online sponsorship of Emmerdale and a lot more that is a lot of airtime for every person and Tombola.
Dawn-Elizabeth Howe, Tombola Bingo Head of Marketing, says: "These ads have the same creative format as the previous ads on the Emmerdale show. We had great feedback as the warmth and fun the players had together comes across brilliantly in the final bumpers and it really reflects what tombola is all about. So when we decided to produce new ads we knew we wanted to repeat much of the existing look and feel."
Making the ads brought together individuals from all over the United Kingdom and with considerably assorted lifestyles. There's mother of three Karen Taylor of Wakefield and Co. Director Christine Di Ciacca from Retford, as an example, but by the end of recording all were good friends and a big reunion is planned in the near future.
This proves that the friendly ethos of tombola bingo can translate into the real world and tombola are excited to stress to viewers with this deal that playing bingo at the bingo site is like joining a vast party of mates each time you switch on to play internet bingo there.